Junxing Archery M108 Archery Bow is an entry-level compound bow for beginning shooters. The M108 is versatile and accurate, making it an excellent choice for both target and 3D shooting.
Specifications:
Materials: 6061 aluminum alloy,
carbon Fiber Laminated
Draw length: 24-30.5 inch
Draw weight: 30-55 lbs
Axle to Axle :40 inch
Brace height: 7.1 inch
ATA/IBO speed: 300 feet/s
Let off: 80%
Net weight: 4.7 lbs /2.2kg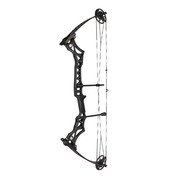 Long range, high precision
-Hollow design, CNC machining, beautifully crafted
-Draw weight, 30-55 lbs adjustable
-The handle absorbs sweat, is comfortable, and is perfectly designed for beginners.
-DO NOT DRY FIRE THE BOW, and the loss
The Junxing Archery M108 Compound Bow is a perfect choice for beginners. It's lightweight, sturdy and surprisingly powerful. The M108 offers accuracy and precision when shooting, so you'll be able to shoot a target accurately even at long ranges. This item is available in different colors and sizes – choose the one that suits you better!