Looking for a professional compound bow that is perfect for hunting? Look no further than the JUNXING M183 Compound Bow! This bow is made with high quality materials and features a durable design that will make it perfect for taking down your prey. Plus, its tone is perfect for professional hunters who want to sound intimidating while out in the field. So don't wait any longer, order your JUNXING M183 Compound Bow today!
Bow handle: Aluminum alloy material from process to quality, from material to performance, whether you think of it or not, it can satisfy you
Bow piece: glass fiber material, the advantage of glass fiber is that it has heat resistance, corrosion resistance and high tensile strength
The number of pounds can be adjusted, with the help of a hexagonal wrench to adjust clockwise, the number of pounds will increase, and counterclockwise adjustment will reduce the number of pounds
CNC integrated cam, sturdy and durable engineering principle, 80% effort saving, long time aiming
notes: Due to the particularity of the product, it needs to be reassembled, we will send the video montage If you don?t want to assemble, please contact customer service, the price needs to be calculated separately
WHILE OTHER COMPOUND BOWS are impossible to adjust & tune without a bow press, are not accurate & consistent or their string and cam break after a few shots, the CreativeXP GlassHarrier Right-Handed Hunting Bow is 100% ADJUSTABLE for Adults, Youth, and Teens WITHOUT going to a bow shop. The GORDON Limbs are MADE IN USA and they provide unmatched Power & Consistency for ALL skill levels.
COMPACT, AGILE & READY TO SHOOT OUT OF THE BOX – You want to GET BACK into bow archery, IMPROVE your bow fishing performance, or just INTRODUCE a loved one to bowhunting. The cams and modules are 100% ALUMINIUM with ZERO plastic to ensure FULL SAFETY and lifetime durability while the high-end strings will SQUEEZE all the speed out of every shot.

OUR MISSION IS PREMIUM QUALITY AT AFFORDABLE PRICES – We are a family-owned American business and because all of us use our hunting products, we had to design an archery bow EASY-TO-ADJUST for most skill levels or body weights. With a 30" axle-to-axle length, 7.4" brace length, 30-70lbs DRAW WEIGHT, 75% LET-OFF, 23.5-30.5" draw length, and an IBO rating up to 320 FPS, the GlassHarrier is versatile enough for a beginner archer or a lifetime bow hunter.
THE PERFECT GIFT FOR A BEGINNER OR A MASTER – If you are looking for a deluxe compound bow kit that has ALL ACCESSORIES included and will get anyone excited, then you are on the right page. As a bonus, the set includes 3 Carbon Arrows, 5-Pin Sight, String Stopper, String Wax, Release Aid, Rubber Stabilizer, Paper Targets, Step-By-Step User Manual and a Premium Quiver.
Junxing M183 right hand archery compound bow sets
bow weight : 3.2lb
Axle to Alxe : 35.3″
brace height :8″
draw weight : 30-40lb
draw length : 23″-30″
let off: 70%
fiberglass bow limbs ,
aluminum alloy bow riser .
dyneema string .
suitable for fishing and hunting
FOR THE PEOPLE, BY THE PEOPLE – The GlassHarrier Bow is packaged tightly to prevent any damage and all the accessories included are compatible with all Compound Bows. Our US-Based customer service is available via phone/email every day.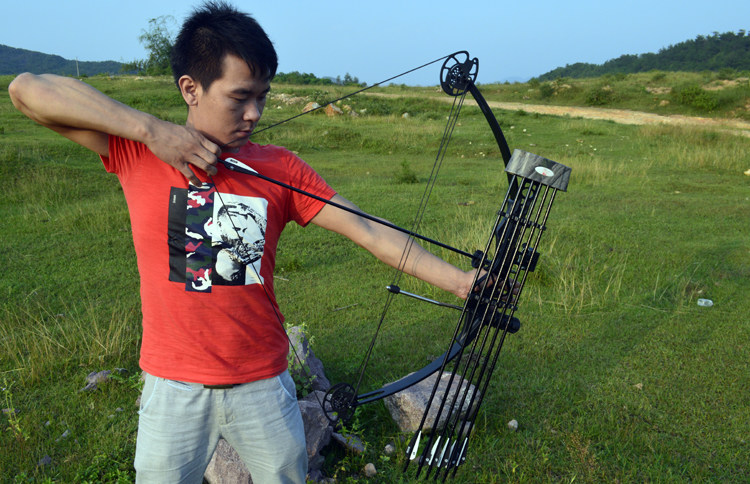 Introducing the JUNXING M183 Compound Bow! This bow is perfect for hunters who are looking for a high-quality compound bow that is professional in tone. The M183 compound bow is made with durable materials that make it withstand the toughest conditions. It also features advanced technology that ensures accuracy and reliability. Whether you're a beginner or experienced hunter, the JUNXING M183 Compound Bow is a must-have accessory.